MOM&ME
uv sanitizer lamp
Regular price
$74.33
Sale price
$148.65
Unit price
per
Tax included.
THE UV OZONE CORONA KILLING LIGHT TUBE AIDS TO KILL BACTERIAL AND FUNGAL SPECIES TO CREATE A BETTER FUTURE FOR ALL OF US.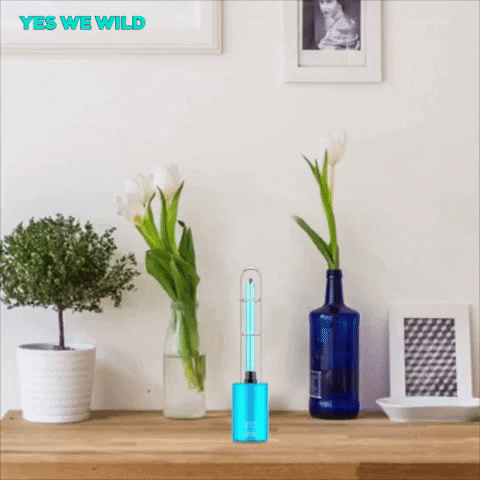 Kill Dust Mites: Dust mites are tiny creatures that are invisible to the naked eye, on the bed, pillow, sofa,carpet, they are everywhere in the house and make many harms: Dust mites bite people skin make itching and skin redness, let people can't sleep and uncomfortable. This lamp's UV-C ray is hundreds times stronger than sunshine, they can kill the dust mites immediately.

Kill Bacterial: This lamp can easy kill bacterias include : mold, Staphylococcus aureus, E.coli, Pet parvovirus, influenza virus, etc. Ultraviolet light will break them down into water and oxygen.
Removes odor: This lamp can remove odor just like the Smoky smell in the kitchen, musty smell in the bedroom, and the bad smell in washroom, shoes box, fridge
Clean air: Can break down tiny substances in the air, reduce allergens that can cause asthma and allergies, Kills contaminants that causes colds, flus, allergies, sinus infection, make the air fresher
BENEFITS 

BENEFIT #1: UV LIGHT DISINFECTION IS NON-TOXIC
Arguably, the most important benefit of UV light disinfection is that it's non-toxic. Unlike harsh chemicals that are sometimes used in cleaning and sanitization products, UV light is environmentally friendly. UV light disinfection is a physical process, not a chemical one.
UV light disinfection is safe for use of food as well as food prep services and non-food items. While human beings can be harmed by excessive UV exposure, proper protection makes this a safe and non-toxic disinfection method for the restaurant, hospitality, and medical industries.
BENEFIT #2: UV LIGHT DISINFECTION IS AN EXTREMELY EFFECTIVE FORM OF DISINFECTION
The next key benefit of disinfecting with UV light is that this method of disinfection can me far more effective than other methods. UV light kills a wide array of harmful organisms.
For example, did you know that UV light destroys molds and spores? Other disinfection methods may not – or they may leave a damp environment where fungi can thrive. Since UV disinfection is a dry method, you can be sure that it will take care of existing mold and prevent its growth in the future.
BENEFIT #3: UV LIGHT DISINFECTION IS SAFE
One of the most common questions we get about UV light disinfection is, "Is it safe to use?" People tend to associate UV exposure with risks such as sunburn, but the key thing to understand is that UV light is safe if used properly.
 UV light is less likely to cause harm than the harsh chemicals in cleaning products if you take the appropriate precautions.
VERY PORTABLE AND CAN CARRY ANYWHERE 
HOW DOES UV AND OZONE KILL BACTERIA?

UV light works by interfering with cell division so that the bacteria cells cannot reproduce. Specifically, the microorganism absorbs the light into its DNA and RNA. The UV light alters the DNA and RNA in ways that either destroys the bacteria  immediately or prevents it from reproducing.
ALERT!! ALERT!! ALERT!!
AFTER ITS DONE MAKE SURE TO LET ROOM OR AREA AIR OUT  FOR A FEW AND YOU WILL BE AMAZED BY THE RESULTS .
FEATURE
Made of quartz material, long service life, high transmission rate and better sterilization effect.
Effective against air and surface bacteria and viruses, sterilization no dead angle, kill distemper tiny more thoroughly.
UV+Ozone double kill germs and viruses within few minutes, the rate of up to 99.99%. Low density ozone, please feel free to use. If you have allergies to perfumes and cant use room deodorizer this may help you by eliminating odors without any perfume in the air.
Rechargeable and portable, USB powered, can be used anywhere.
Can be used in refrigerator, car, bedroom, kitchen, shoes cabinet, washing room, babys room, pet house and other small spaces.
HOW TO USE PUREOZ™ UV DISINFECTION LAMP?

Long press the power button for 3 seconds - the indicator light turns blue to standby state.

The blue light turns off after 10 sec and the uv light starts working - the device enters the sterilization mode.

It works for 15 mins each time and will automatically turn off.

You can also short press the on/off button to turn it off manually.
Note :
The switch needs to be pressed for 3-5 seconds. When the base hole light is on, the light will be on after 5-7 seconds. At this time, the product is working properly.

Q&A
Q: Can I put UVC fixtures in my home?
A: Yes – Pureoz™ UV Lamp have been safely used in homes, as well as in hospitals, laboratories, clean rooms, doctors″ offices, commercial buildings, food processing plants and other commercial and residential environments throughout the world - any place a concern for clean air exists.
Q: Do germicidal lamps kill viruses?
A: Yes -germicidal UVC lamps kill up to 99.9% of most viruses, airborne bacteria and mold spores.
Q: How hot do the lamps get?
A: Germicidal UVC lamps do not produce much heat - about the same as fluorescent lamp
---